The Poetry of the Napoleonic Wars
By Kieran Hazzard
From 1793 through until 1815 war raged across the globe, with only the briefest of pauses in the conflict between Britain and France, and it was during these tumultuous years that the literary movement known as Romanticism began to emerge. Its principle exponents Byron, Keats, Wordsworth, Leigh Hunt, Coleridge and Shelley remain popular to this day, yet the wider public have perhaps forgotten that Romanticism was a response to war as much as a reaction against industrialisation and a result of the waning of aristocratic Enlightenment ideals. The romantic poets favoured more natural, emotional and personal artistic themes, compared to the grand narrative or patriotic hymn of their more conservative contemporaries. 
It was at heart a democratic movement, whose members prior to the execution of Louis XVI and the dawn of war had been strong supporters of the Revolution in France. Famously, in his France: an Ode, Coleridge describes his development from supporting the French Revolution to his feelings of betrayal with the invasion of Switzerland. Southey, like Wordsworth and Coleridge, began as an anti-war poet who gradually reversed his position to become a staunch supporter. His and others shift from Radical politics to Toryism can be seen as a response to the change in the character of the war itself; moving from a revolution against tyranny in to a war which seemed to have as its goal total European domination by France.
With these roots in mind, when war came Romantic poets who engaged directly with the war turned their attention to the experiences and plight of the common soldier, a subject which had not been thought appropriate for art, including poetry, until this period. Collected below is a selection of poems, by both famous and forgotten poets alike, which seek to treat the experiences of ordinary soldiers and their families realistically and thus through poetry reveal the nature of war to an otherwise unfamiliar audience.
First, however, is an example of the more patriotic variety of verse which more commonly circulated the country. Here we can see the poet seeks to extol the virtue and glory of dying for one's country; a sentiment that contemporaries as well as famously Wilfred Owen would come to rail against. 
The Dying Patriot 
"W. C**E." 
The Poetical Magazine, IV (1811)
Dulce et decorum est pro patria mori. HOR. 
When, rous'd into arms at the voice of the State, 
   His sword the bold Patriot draws, 
How bright is the lustre that shines on his fate, 
   If destin'd to sink in her cause! 

While the eyes of the hero are closing in death, 
   How graceful, how sweet, is the scene! 
Encircled with glory, he yields up his breath; 
   'Mid the tortures of anguish, serene. 

Oh! mark to each feature what radiance is given 
   As he drops on the verge of the grave! 
'Tis the sunset of valour, the day-spring of heaven, 
   The triumph that waits on the brave!
Yet compare this to the unflinching, even brutal, evocation of the fruits of war by Southey. Here he shows us the devastation reaped among a soldier's family by his death in the war, and challenges the reader to judge the iniquity that it is the poor who should suffer greater than those who conduct the war.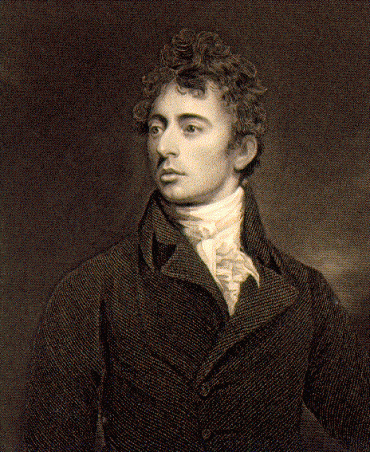 The Soldier's Funeral 
Robert Southey 
(1799)
It is the funeral march. I did not think 
That there had been such magic in sweet sounds! 
Hark! from the blacken'd cymbal that dead tone— 
It awes the very rabble multitude, 
They follow silently, their earnest brows 
Lifted in solemn thought. 'Tis not the pomp 
And pageantry of death that with such force 
Arrests the sense,—the mute and mourning train, 
The white plume nodding o'er the sable hearse, 
Had past unheeded, or perchance awoke 
A serious smile upon the poor man's cheek 
At pride's last triumph. Now these measur'd sounds 
This universal language, to the heart 
Speak instant, and on all these various minds 
Compel one feeling. 
                                   But such better thoughts 
Will pass away, how soon! and these who here 
Are following their dead comrade to the grave, 
Ere the night fall, will in their revelry 
Quench all remembrance. From the ties of life 
Unnaturally rent, a man who knew 
No resting place, no dear delights of home, 
Belike who never saw his children's face, 
Whose children knew no father, he is gone, 
Dropt from existence, like the withered leaf 
That from the summer tree is swept away, 
Its loss unseen. She hears not of his death 
Who bore him, and already for her son 
Her tears of bitterness are shed: when first 
He had put on the livery of blood, 
She wept him dead to her. 
                                   We are indeed 
Clay in the potter's hand! one favour'd mind 
Scarce lower than the Angels, shall explore 
The ways of Nature, whilst his fellow-man 
Fram'd with like miracle the work of God, 
Must as the unreasonable beast drag on 
A life of labour, like this soldier here, 
His wonderous faculties bestow'd in vain, 
Be moulded by his fate till be becomes 
A mere machine of murder. 
                                 And there are 
Who say that this is well! as God had made 
All things for man's good pleasure, so of men 
The many for the few! Court-moralists, 
Reverend lip-comforters that once a week 
Proclaim how blessed are the poor, for they 
Shall have their wealth hereafter, and tho' now 
Toiling and troubled, tho' they pick the crumbs 
That from the rich man's table fall, at length 
In Abraham's bosom rest with Lazarus. 
Themselves meantime secure their good things here 
And dine with Dives. These are they O Lord! 
Who in thy plain and simple gospel see 
All mysteries, but who find no peace enjoined, 
No brotherhood, no wrath denounced on them 
Who shed their brethren's blood,—blind at noon day 
As owls, lynx-eyed in darkness! 
                                 O my God! 
I thank thee that I am not such as these 
I thank thee for the eye that sees, the heart 
That feels, the voice that in these evil days 
That amid evil tongues, exalts itself 
And cries aloud against the iniquity.
Other poets sought to draw attention to the travails of the army campaigning in the Peninsular. The following poem, written under a pseudonym, really captures the feelings of the weary soldier far from home.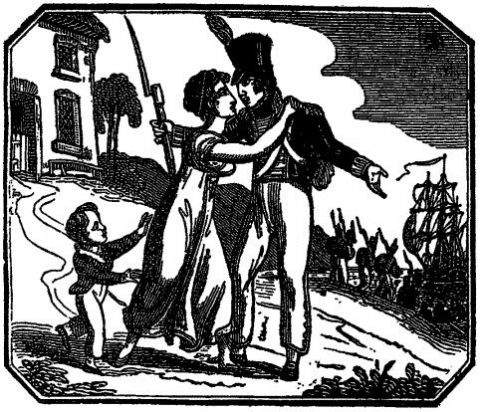 The Soldier at Night 
"Leo" 
The Gentleman's Magazine, LXXVII (March, 1807)

Scene—Holland. 
Come, sweet Sleep, come—my members crave repose, 
   Tir'd with the hard-fought contest of the day; 
Come, sweet Sleep, come, my willing eyelids close, 
   And bid soft dreams around my pillow play. 
O let the scenes of battle far to-night, 
   Far from my couch be scatter'd by thy breath; 
Pain to my heart and sick'ning to my sight, 
   Are human groans and the red bed of Death. 
O thou seducer of the human mind, 
   Thou bane of millions, and thou bliss of none, 
Ambition! restless tyrant of mankind, 
   No knee bend I before thy bloodstain'd throne. 
Yet coward am I none; nor small today 
   Hath been the glory which myself have won, 
And many gallant heroes breathless lay, 
   Sad marks of what my wearied arm hath done. 
Yes, I can feel my life's blood burning flow 
   With British ardour when the Foe comes nigh; 
And when around the clashing sabres glow, 
   My soul exults, and when the bullets fly. 
But still I long to view my native spot, 
   My wife and rosy babes again to see; 
The cheerful fire blaze round my peaceful cot, 
   And take my infant prattler on my knee. 
Haply, my loves, no more you'll bless my sight; 
   Or, if you do, first many months must fly, 
And I again must mingle in the fight, 
   And bear new toils, and see my comrades die. 
Ah! my belov'd! safe in my native vale, 
   Ye little know the hardships I sustain; 
Cold on my slumbers comes the whistling gale, 
   Chill fall the drifting snow and drenching rain. 
Lo! Fancy now, with soft ideas fraught, 
   Beholds you plac'd around your mother's knee, 
Lisping the prayer her faithful love hath taught, 
   That Heav'n may guard your fire from danger's free.
Whilst many Romantic poets did not themselves take part in the war, there were many amongst Wellington's officer corps and among that of the Navy who could turn their hands to poetry. One such example comes from a lowly army Captain, who wrote the following examination of the soldier's lot 'at Gibraltar, on a very stormy evening, with the melancholy prospect of going upon half-pay.'
Half-Pay 
Capt. Joseph Badworth 
The Gentleman's Magazine, LXIV (December, 1794)
I. 
What is't to toil amidst the din of war, 
To talk of honour, or a dreadful fear, 
To live on hope, the shadow'd best we have, 
With ling'ring wounds that torture to the grave! 
Yet even hope, delusive hope, is fled, 
Half-pay must cover a once-bleeding head! 
A fate too oft the worn-out soldier meets, 
Such too the friendless of our British fleets; 
Not like those idle baskers in the sun, 
Who reap the profits that the brave had won, 
Who never knew, nor ever wish'd to know, 
What 'tis to struggle 'gainst a hardy foe; 
But men, whose actions with the war forgot, 
Slip from the Minister's Protean thought. 
Alas! 'tis painful such a change to tell, 
To bid our friends in arms a longing, last, farewell! 

II. 
Soldiers, and Brother Soldiers, doubly dear, 
The time will come we meet no longer here; 
No more is heard the thund'ring cannon's roar; 
Calpe is silent; Echo says no more; 
No more terrific to Iberia now, 
Yet scournful frowns with dark unalter'd brow; 
Her harden'd front at rest from fruitless rage, 
Whilst Hist'ry plants her in the choicest page. 
But halt!—Carnage is o'er, and we must go 
To other climes; ah! where we cannot know. 
Chance must direct, parent of hidden wiles, 
To guess—as useless as past Fortune's smiles; 
But, wheresoe'er it is, we part with pain, 
For separation breaks the soldier's chain. 
Alas! 'tis rueful such a change to tell, 
To bid our friends in arms a longing, last, farewell! 

III. 
Oft has been heard, when fight imbrues the plain 
(Where many a gallant Englishman is slain), 
The loudest plaudits through the country rise, 
And empty approbation is the prize; 
Such as a nation on her ROCK bestow'd, 
When no rich manna from the fount o'er-flow'd; 
Promotion lost, and hard the soldier's fare, 
For thanks alone are nothing more than air. 
And now fair Peace her genial influence sends 
To stop the glut of war, when foes are friends, 
The time so wish'd-for by each hostile side, 
The downy time that life should be enjoy'd; 
Ah! then it is the soldier droops alone, 
Retires with penury, and lives unknown. 
Alas! 'tis painful such a change to tell, 
To bid our friends in arms a longing, last, farewell! 

IV. 
Should all the little stock be starv'd Half-pay, 
Hope gleans no comfort from the coming day; 
(Hope always was a shadow in my breast, 
Nor e'er dropp'd anchor near some place of rest;) 
Onward Time drags; relations now no more, 
Who would have added to the scanty store; 
Some (not a few) whom fortune so much chang'd, 
Their wealth as useless as their hearts estrang'd; 
Whilst the old soldier sickens at his fate, 
In the lone dulness of forlorn retreat. 
Yet, should he hear again of War's alarms, 
And Britain's voice call forth her sons "to arms!" 
His breast would glow with retrospective fire, 
For the true brave ne'er willingly retire.— 
Alas! 'tis painful such a change to tell, 
To bid our friends in arms a longing, last, farewell! 

V. 
Ah! should old Time the embers quench, and say, 
"Thou canst no more, thine ev'ry hair is gray; 
"Thy veins start high above the palsied hand, 
"That once with vig'rous nerve obey'd command; 
"Thy head hangs drooping o'er thy furrow'd breast, 
"Where once the tender passion was—a guest; 
"Trem'lous thy speech; scarce canst thou find thy way; 
"And faithful tell'st thy story thrice a day; 
"Thy legs, the crutches to thy tott'ring frame, 
"The body's feeble partnership proclaim; 
"Therefore, my vet'ran, thou must now no more; 
"Thy zeal is only left, thy pow'rs are o'er; 
"Let the bold youth, whose bosoms pant for fame, 
"Come forth exulting in the British name; 
"Such should advance, with prudence for a guide, 
"Proud of their country, such their country's pride; 
"Give them the wishes of thy worn-out breast, 
"But let thy head in calm oblivion rest. 
"Go! to thyself re-think thy actions past, 
"Weigh ev'ry hour, prepare to meet the last; 
"By such great means make happiness thy own: 
"In youth thou serv'd'st thy King; in age serve 
God alone!"
Having heard already from a young Southey, two of the period's more famous poets also had much to say about the effects of battle. Byron's Childe Harold's Pilgrimage describes the travels and reflections of a world-weary young man who, disillusioned with a life of pleasure and revelry, looks for distraction in foreign lands. Yet in a wider sense, it is an expression of the melancholy and disillusionment felt by a generation weary of the French wars. Here he reflects upon the glory and the futility of the battles of Talavera and Albuera.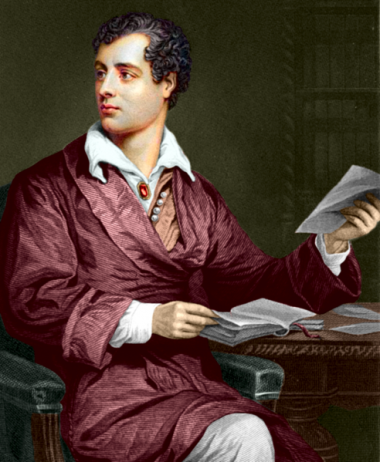 Childe Harold's Pilgrimage
Lord Byron
(1812)
   Awake, ye sons of Spain! awake! advance
   Lo! Chivalry, your ancient goddess, cries,
   But wields not, as of old, her thirsty lance,
   Nor shakes her crimson plumage in the skies:
   Now on the smoke of blazing bolts she flies,
   And speaks in thunder through yon engine's roar!
   In every peal she calls - 'Awake! arise!'
   Say, is her voice more feeble than of yore,
When her war-song was heard on Andalusia's shore?

   Hark! heard you not those hoofs of dreadful note?
   Sounds not the clang of conflict on the heath?
   Saw ye not whom the reeking sabre smote;
   Nor saved your brethren ere they sank beneath
   Tyrants and tyrants' slaves? - the fires of death,
   The bale-fires flash on high: - from rock to rock
   Each volley tells that thousands cease to breathe:
   Death rides upon the sulphury Siroc,
Red Battle stamps his foot, and nations feel the shock.

   Lo! where the Giant on the mountain stands,
   His blood-red tresses deepening in the sun,
   With death-shot glowing in his fiery hands,
   And eye that scorcheth all it glares upon;
   Restless it rolls, now fixed, and now anon
   Flashing afar, - and at his iron feet
   Destruction cowers, to mark what deeds are done;
   For on this morn three potent nations meet,
To shed before his shrine the blood he deems most sweet.

   By Heaven! it is a splendid sight to see
   (For one who hath no friend, no brother there)
   Their rival scarfs of mixed embroidery,
   Their various arms that glitter in the air!
   What gallant war-hounds rouse them from their lair,
   And gnash their fangs, loud yelling for the prey!
   All join the chase, but few the triumph share:
   The Grave shall bear the chiefest prize away,
And Havoc scarce for joy can cumber their array.

   Three hosts combine to offer sacrifice;
   Three tongues prefer strange orisons on high;
   Three gaudy standards flout the pale blue skies.
   The shouts are France, Spain, Albion, Victory!
   The foe, the victim, and the fond ally
   That fights for all, but ever fights in vain,
   Are met - as if at home they could not die -
   To feed the crow on Talavera's plain,
And fertilise the field that each pretends to gain.

   There shall they rot - Ambition's honoured fools!
   Yes, Honour decks the turf that wraps their clay!
   Vain Sophistry! in these behold the tools,
   The broken tools, that tyrants cast away
   By myriads, when they dare to pave their way
   With human hearts - to what? - a dream alone.
   Can despots compass aught that hails their sway?
   Or call with truth one span of earth their own,
Save that wherein at last they crumble bone by bone?
   Oh, Albuera! glorious field of grief!
   As o'er thy plain the Pilgrim prick'd his steed,
   Who could foresee thee, in a space so brief,
   A scene where mingling foes should boast and bleed!
   Peace to the perish'd! may the warrior's meed
   And tears of triumph their reward prolong!
   Till others fall where other chieftains lead
   Thy name shall circle round the gaping throng,
And shine in worthless lays, the theme of transient song.
Whilst Leigh Hunt was so moved by the senseless loss of life during the botched invasion of the swampy island of Walcheren at the mouth of river Scheldt in the Netherlands, that he wrote a poem mourning the loss of over 4,000 men to malaria and typhus.
Walcheren Expedition;
Or, the Englishman's Lamentation for the Loss of His Countrymen
James Henry Leigh Hunt
The Examiner and The Morning Chronicle (January, 1810)

Ye brave, enduring Englishmen, 
   Who dash through fire and flood, 
And spend with equal thoughtlessness 
   Your money and your blood, 
I sing of that black season, 
   Which all true hearts deplore, 
       When ye lay, 
       Night and day, 
Upon Walcheren's swampy shore. 

'Twas in the summer's sunshine 
   Your mighty host set sail, 
With valour in each longing heart 
   And vigour in the gale; 
The Frenchman dropp'd his laughter, 
   The Fleming's thoughts grew sore, 
       As ye came 
       In your fame 
To the dark and swampy shore. 

But foul delays encompass'd ye 
   More dang'rous than the foe, 
As Antwerp's town and its guarded fleet 
   Too well for Britons know; 
One spot alone ye conquer'd 
   With hosts unknown of yore; 
       And your might 
       Day and night, 
Lay still on the swampy shore. 

In vain your dauntless mariners 
   Mourn'd ev'ry moment lost, 
In vain your soldiers threw their eyes 
   In flame to the hostile coast; 
The fire of gallant aspects 
   Was doom'd to be no more, 
       And your fame 
       Sunk with shame 
In the dark and the swampy shore. 

Ye died not in the triumphing 
   Of the battle-shaken flood, 
Ye died not on the charging field 
   In the mingle of brave blood; 
But 'twas in wasting fevers 
   Full three months and more, 
       Britons born, 
       Pierc'd with scorn, 
Lay at rot on the swampy shore. 

No ship came o'er to bring relief, 
   No orders came to save; 
But DEATH stood there and never stirr'd, 
   Still counting for the grave. 
They lay down, and they linger'd, 
   And died with feelings sore, 
       And the waves 
       Pierc'd their graves 
Thro' the dark and the swampy shore. 

Oh England! Oh my Countrymen! 
   Ye ne'er shall thrive again, 
Till freed from Councils obstinate 
   Of mercenary men. 
So toll for the six thousand 
   Whose miseries are o'er, 
       Where the deep, 
       To their sleep, 
Bemoans on the swampy shore.
The young Louisa Stuart Costello, who in later life would have her work published, produced the following poem in response to the death of her father, Colonel James Francis Costello, when she was but 15 years old.  
On Reading the Account of the Battle of Waterloo 
Louisa Stuart Costello 

   OH! who can listen with delight 
   To tales of battles won? 
   And who can hear without affright 
   The news of war begun. 

   Oh! when the glory does their hearts inspire, 
   Did they reflect what woes some bosoms fire? 
   Oh did their thoughts fly to the battle plain, 
   And mark the writhing agony and pain, 
   And hear the cries, and see the bleeding slain ! 

   Ah! sure no more their hearts with joy would bound, 
   But shrink in horror from the vict'ry's sound. 
   While thro' the streets the news of conquest spread, 
   Each parent listens with consuming dread. 

   Those shouts of triumph breath'd from every tongue, 
   Some anxious heart with agony has wrung. 
   The meanest soldier sunk to death's repose, 
   Has cuas'd some breast to fell affliction's throes: 
   How can they bear each joyful shout to hear, 
   Which still renews remembrances so dear! 

   Oh! long may battle's terrors cease! 
   Be war and vengeance fled: 
   That Europe, wrapt in lasting peace, 
   May rest her laurell'd head!
Yet perhaps the last word should go to Charles Wolfe, whose lines written a few years after the close of the Napoleonic Wars, capture the deep melancholy as well as the glory of war, in his oft quoted elegy to Sir John Moore, a figure who was crucial to the establishment of the Rifle Corps.
The Burial of Sir John Moore after Corunna 
Charles Wolfe 
(1817)
Not a drum was heard, not a funeral note, 
As his corpse to the rampart we hurried; 
Not a soldier discharged his farewell shot 
O'er the grave where our hero we buried. 
  
We buried him darkly at dead of night, 
The sods with our bayonets turning, 
By the struggling moonbeam's misty light 
And the lanthorn dimly burning. 
  
No useless coffin enclosed his breast, 
Not in sheet or in shroud we wound him; 
But he lay like a warrior taking his rest 
With his martial cloak around him. 
  
Few and short were the prayers we said, 
And we spoke not a word of sorrow; 
But we steadfastly gazed on the face that was dead, 
And we bitterly thought of the morrow. 
  
We thought, as we hollow'd his narrow bed 
And smooth'd down his lonely pillow, 
That the foe and the stranger would tread o'er his head, 
And we far away on the billow! 
  
Lightly they'll talk of the spirit that's gone, 
And o'er his cold ashes upbraid him-- 
But little he'll reck, if they let him sleep on 
In the grave where a Briton has laid him. 
  
But half of our heavy task was done 
When the clock struck the hour for retiring; 
And we heard the distant and random gun 
The foe was sullenly firing. 
  
Slowly and sadly we laid him down, 
From the field of his fame fresh and gory; 
We carved not a line, and we raised not a stone, 
But we left him alone with his glory.